01.04.2013 | Production Process | Ausgabe 2-3/2013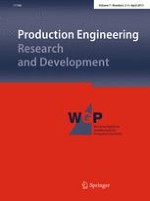 Prediction of surface roughness due to spinning in the incremental tube forming process
Zeitschrift:
Autoren:

C. Becker, G. Quintana, M. Hermes, B. Cavallini, A. E. Tekkaya
Abstract
Incremental tube forming (ITF) is a new process allowing a flexible manufacturing of 2D and 3D bent tubes with load-optimized cross sections by means of the combination of the procedures spinning and bending. The aim of this paper is to acquire an in-depth process understanding concerning the surface roughness. This paper focuses on the spinning process operation of the ITF process. The influence of the spinning roll geometry and the process parameters on the theoretical surface roughness is studied in detail. Crest height
h
and roughness average parameter
R
a
are formulated as function of process parameters and spinning roll geometry. Also, a fishbone diagram with the parameters influencing the tube surface characteristics is provided. Experiments are performed to quantify the divergences of the equations. The theoretical approach can be used to understand the incremental tube forming process in more detail.