22.04.2017 | Original Paper | Ausgabe 8/2017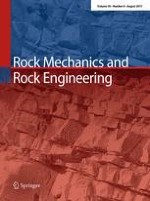 Prediction of the Peak Shear Strength of Sandstone and Mudstone Joints Infilled with High Water–Cement Ratio Grouts
Zeitschrift:
Autoren:

Hao Ma, Quansheng Liu
Abstract
There are very few studies on the peak shear strength of cement-infilled joints, despite it being a key parameter in the grouting technique. To quantify this strength, the average elastic modulus of hardened cement pastes with a high water–cement ratio (w/c) has been determined by using a homogenization method, in which the bleeding ratio is includes. Based on a scanning electron microscope analysis of the micromorphology of the rock joint surface and study of the interfacial transition zone, the mechanisms of the microscopic bond shear failure at the interfaces between the cement pastes and rocks have been deduced, in which the effect of the macroscopic roughness has not been taken into consideration. Based on the JRC–JCS model of unfilled joints, which takes the macroscopic roughness into consideration, together with the microscopic bond shear model, a model has been developed that can predict the peak shear strength of cement-infilled joints of sandstone and mudstone. The predictions have been verified by experimental results. The results show that if the
w
/
c
is too low, then the grouting can weaken the rock mass. If the
w
/
c
is appropriate, then the increase to the peak shear strength can be determined by the model.