2014 | OriginalPaper | Buchkapitel
Predictive Capability of Deterministic and Statistical Models in Weathered Granite Soil Watershed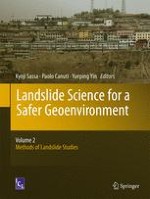 Erstes Kapitel lesen
Autoren: Ananta Man Singh Pradhan, Jeong-Rim Oh, Min-Su Jung, Yun-Tae Kim
Abstract
Every year, the Republic of Korea experiences numerous landslides, resulting in property damage and casualties, especially in weathered granite soil slopes.
This paper compares the predictive capability of two different models, namely shallow landslide stability (SHALSTAB), deterministic model and relative effect (RE) model, a statistical bivariate model for producing shallow landslide susceptibility maps.
Deokjeok-ri Creek was selected for the study. The watershed is mainly covered by granitic soil. For SHALSTAB analysis a digital elevation model was used. The soil strength parameters and physical properties of soil were determined in the laboratory. For the statistical model, the input layers of the landslide conditioning factors were prepared in the first stage. The effects of causative factors on slope stability were mapped on topographical maps of 1:5,000 scale. Mainly geomorphic (slope, aspect, elevation, internal relief, and slope shape), hydrology based (drainage distance, stream power index, topographic wetness index, sediment transport index, drainage density and soil drainage characters), soil type and soil depth distribution and forest type and timber age causative factors and field inventory were used for statistical susceptibility mapping. Model performance was assessed using accuracy curve approach. Results show that accuracy is as high as 88.21 % for SHALSTAB, while it is 86.3 % for RE model. Although SHALSTAB has certain drawbacks, as described by previous researchers, this study concluded that in a small watershed and using accurate geotechnical data SHALSTAB can predict the probability of slope failure in Korean mountainous regions.