2018 | OriginalPaper | Buchkapitel
1. Preliminaries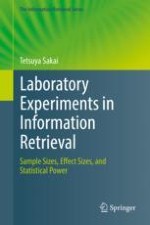 Autor: Tetsuya Sakai
Verlag: Springer Singapore
Abstract
This chapter discusses the basic principles of classical statistical significance testing (Sect. 1.1) and defines some well-known probability distributions that are necessary for discussing parametric significance tests (Sect. 1.2). ("A problem is
parametric
if the form of the underlying distribution is known, and it is
nonparametric
if we have no knowledge concerning the distribution(s) from which the observations are drawn." Good (Permutation, parametric, and bootstrap tests of hypothesis, 3rd edn. Springer, New York, 2005, p. 14). For example, the
paired
t-test
is a parametric test for paired data as it relies on the assumption that the observed data independently obey normal distributions (See Chap.
2
Sect.
2.​2
); the
sign test
is a nonparametric test; they may be applied to the same data if the normality assumption is not valid. This book only discusses parametric tests for comparing means, namely,
t
-tests and ANOVAs. See Chap.
2
for a discussion on the robustness of the
t
-test to the normality assumption violation.) As this book is intended for IR researchers such as myself, not statisticians, well-known theorems are presented without proofs; only brief proofs for corollaries are given. In the next two chapters, we shall use these basic theorems and corollaries as black boxes just as programmers utilise standard libraries when writing their own code. This chapter also defines less well-known distributions called
noncentral
distributions (Sect. 1.3), which we shall need for discussing sample size design and power analysis in Chaps.
6
and
7
. Hence Sect. 1.3 may be skipped if the reader only wishes to learn about the principles and limitations of significance testing; however, such readers should read up to Chap.
5
before abandoning this book.