2015 | OriginalPaper | Buchkapitel
2. Preliminaries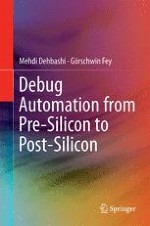 Erstes Kapitel lesen
Autoren: Mehdi Dehbashi, Görschwin Fey
Abstract
Each combinational circuit is represented by a directed acyclic graph
C
 = (
V
, 
E
), referred to as the
circuit graph
, where
V
is the set of circuit nodes and
E
 ⊆ 
V
×
V
, the set of edges, corresponds to the gate input-output connections in the circuit [LRS89]. For gate-level benchmarks, we consider the nodes to be gates with symmetric functions. Each node in the circuit graph is associated with a symmetric function which represents the corresponding behavior of that gate in the circuit. A symmetric function does not depend on the order of inputs but only on the sum of variables assigned to 0 or to 1, respectively.