2015 | OriginalPaper | Buchkapitel
4. Preliminary Assessment of Arsenic Distribution in Brahmaputra River Basin of India Based on Examination of 56,180 Public Groundwater Wells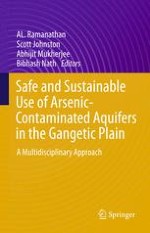 Erstes Kapitel lesen
Autoren: Chandan Mahanta, Runti Choudhury, Somnath Basu, Rushabh Hemani, Abhijit Dutta, Partha Pratim Barua, Pronob Jyoti Borah, Milanjit Bhattacharya, Krisaloy Bhattacharya, Wazir Alam, Lalit Saikia, Abhijit Mukherjee, Prosun Bhattacharya
Abstract
Arsenic (As) rich groundwater in alluvial aquifers is a worldwide problem (Nriagu JO, Bhattacharya P, Mukherjee AB, Bundschuh J, Zevenhoven R, Loeppert RH, Arsenic in soil and groundwater: an introduction. In: Bhattacharya P, Mukherjee AB, Bundschuh J, Zevenhoven R, Loeppert RH (eds) Arsenic in soil and groundwater environment: biogeochemical interactions, health effects and remediation. Trace metals and other contaminants in the environment, vol 9 (Ser Ed Nriagu JO). Elsevier, Amsterdam, 2007). Elevated arsenic concentrations have long been detected in Southeast Asia (e.g. Thailand, Myanmar, Vietnam, Cambodia and Lao), India, Bangladesh, China, Mongolia, Nepal and Pakistan (Smedley PL, Kinniburgh DG, Appl Geochem 17:517–568, 2002). Recent reports of discovery of arsenic (As) enrichment in groundwater of the Brahmaputra river basin (Bhattacharya P, Mukherjee A, Mukherjee AB, Arsenic contaminated groundwater of India. In: Nriagu J (ed) Encyclopedia of environmental health. Elsevier B.V, Amsterdam, 2011) has exposed a significantly large population inhabiting in the river valley to serious health threats, although the actual distribution and extent of the As affected groundwater in the aquifers are yet to be established. Because of its vicinity to the highly As rich groundwater regions of Bengal basin (Bangladesh and West Bengal state of India), the extent of the polluted areas within the Brahmaputra basin may be much wider than what is initially understood. Groundwater arsenic contamination in the Brahmaputra basin aquifers in Assam, a state in the northeastern part of India, has started gaining attention relatively recently. Singh (Arsenic contamination in groundwater of North Eastern India. In: Proceedings of 11th national symposium on hydrology with focal theme on water quality. National Institute of Hydrology, Roorkee, 2004) reported maximum groundwater arsenic concentrations in Jorhat district (Fig. 4.1), located in the southern bank of the Brahmaputra river in Assam (maximum groundwater As concentration ranges between 194 and 657 μg/L), with relatively lower concentrations in the northern bank like Lakhimpur district (50–550 μg/L). Based on studies conducted in Darrang and Bongaigaon districts located in the northern bank (Fig. 4.1) of the Brahmaputra river in Assam, Enmark and Nordborg (Arsenic in the groundwater of the Brahmaputra floodplains, Assam, India—Source, distribution and release, mechanisms. Retrieved from the url:
www2.​lwr.​kth.​se/​Publikationer/​PDF_​Files/​MFS_​2007_​131.​pdf
, 2007) reported the concentration of arsenic in the two districts between 5 and 606 μg/L. In a study conducted in 2010 (Mahanta C, Pathak N, Bhattacharya P, Enmark G, Nordborg D, Source, distribution and release mechanisms of arsenic in the groundwater of Assam floodplains of Northeast India. In: Proceedings of the World Environmental and Water Resources Congress sponsored by Environmental and Water Resources Institute (EWRI) of the American Society of Civil Engineers, 2008), concentrations beyond 50 μg/L have been confirmed in 72 blocks out of 214 blocks in 22 districts of Assam. A study by Chetia M, Chatterjee S, Banerjee S, Nath MJ, Singh D, Srivastava RB, Sarma HP (Environ Monit Assess 173:1393–1398, 2011) in the Golaghat district reported As concentration ranging between 1 and 128 μg/L in six blocks of the district. These studies so far have remained spatially limited and a comprehensive picture is yet to emerge. To comprehensively evaluate the extent of As contamination in the region, a blanket rapid assessment study was undertaken in large parts of the Brahmaputra basin in Assam. This paper reports the preliminary assessment of arsenic distribution in the Brahmaputra basin in Assam based upon results from 56,180 public groundwater wells, tested during the rapid assessment programme.