01.02.2011 | Ausgabe 1/2011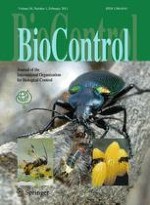 Preliminary inventory of parasitoids associated with fruit flies in mangoes, guavas, cashew pepper and wild fruit crops in Benin
Zeitschrift:
Autoren:

Jean-François Vayssières, Robert Wharton, Appolinaire Adandonon, Antonio Sinzogan
Wichtige Hinweise
Handling Editor: Dirk Babendreier
This work is part of a regional program on fruit fly control strategies in West Africa, coordinated by Dr Jean-François Vayssières, IITA-Benin. We think it is important to first inventory the native parasitoid species before undertaking the fruit fly biocontrol and especially before carrying out any introduction of exotic species of parasitoids.
Abstract
Fruit flies are pests of great economic importance due to their quarantine pest status and losses recorded in West Africa. An inventory of parasitoids associated with fruit flies in mangoes, guavas, cashew, pepper and major wild fruit crops was carried out in northern-central Benin in 2005, 2006, and 2008. Tephritid parasitoids reared from field-collected fruits belonged to three families: Braconidae (97.2%), Eulophidae (1.6%) and Pteromalidae (1.2%).
Fopius caudatus
(Szépligeti) accounted for 73.8% of all the parasitoids and therefore was the most abundant and widely distributed parasitoid. The parasitism rate was 7.7%, with the highest recorded in wild fruit crop habitat.
Ceratitis cosyra
(Walker) (77%) was the fly host most commonly reared from fruits that produced
F. caudatus.
The recently introduced pest
Bactrocera invadens
Drew Tsuruta and White was rarely parasitized and only by
Pachycrepoideus
vindemmiae
(Rondani) (Hymenoptera: Pteromalidae) at this time. This is the first report of the inventory of one native parasitoid species from
B. invadens
in Africa, especially in West Africa.