2019 | OriginalPaper | Buchkapitel
Premises for Truck Sharing in General Cargo Cooperatives – An Exploratory Case Study Research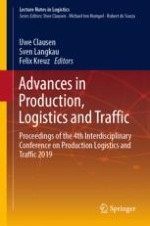 Erstes Kapitel lesen
Autoren: Wolfgang Stoelzle, Victor B. Wildhaber
Abstract
The road freight transportation-industry in the German speaking countries (Germany, Austria and Switzerland) faces high market pressure. Besides a high competition between the logistic service providers, shippers are exerting pressure too (Cordes
2018
).
The market situation urges especially the small and medium enterprises to take action. This is because of their relatively small size and thereby minor possibilities than large enterprises to foster efficiency, e.g. truck-utilization (DLK
2016
). Through an innovative form to increase truck-utilization such as a sharing economy-application, an important facilitation for small and medium enterprises during the downtimes could be achieved. As the sharing economy offers various advantages such as fostering utilization of idle capacities or the reduction of the ecological footprint, these should be levered.
To enable sound exploratory research results about the premises (e.g. enablers and barriers) of truck sharing in general cargo cooperative, two different research fields should be addressed. First, a short literature review provides insight into relevant literature about truck sharing. Second, case-interviews and -analyses with general cargo cooperatives share the practitioners view on truck sharing. Therefore, a multiple case-design, enabling semi-structured interviews to set the basis for data-collection and evaluation.
The (cross-)case analysis shows that, among others, the mindset of sharing (own) resources (i.e. truck branding), data security, legal liability, financial contribution system, reputation of the sharing platform, trust and the incentive program are relevant premises for truck sharing in general cargo cooperatives. These, however, are re-categorized after their relevance into the architecture, market and property-requirements.
To lever the potentials such as advancements in truck-utilization and environmental pollution of the rather new concept of truck sharing, premises have to be met. The concept is enabled, respectively challenged by the trust, reputation, participant's mindset, security, liability, contribution system and incentives.