01.12.2009 | Ausgabe 12/2009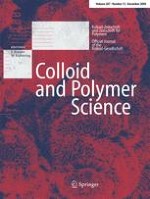 Preparation and antibacterial activity of electrospun chitosan/poly(ethylene oxide) membranes containing silver nanoparticles
Zeitschrift:
Autoren:

Jing An, Hong Zhang, Jitu Zhang, Yunhui Zhao, Xiaoyan Yuan
Wichtige Hinweise
Supported by the foundation of Hebei University of Science and Technology (No. XL200819)
Abstract
Fairly uniform chitosan (CS)/poly(ethylene oxide) (PEO) ultrafine fibers containing silver nanoparticles (AgNPs) were successfully prepared by electrospinning of CS/PEO solutions containing Ag/CS colloids by means of in situ chemical reduction of Ag ions. The presence of AgNPs in the electrospun ultrafine fibers was confirmed by X-ray diffraction patterns. The AgNPs were evenly distributed in CS/PEO ultrafine fibers with the size less than 5 nm observed under a transmission electron microscope. X-ray photoelectron spectroscopy suggested that the existence of Ag―O bond in the composite ultrafine fibers led to the tight combination between Ag and CS. Evaluation of antimicrobial activities of the electrospun Ag/CS/PEO fibrous membranes against
Escherichia coli
showed that the AgNPs in the ultrafine fibers significantly enhanced the inactivation of bacteria.