01.04.2015 | Original Paper | Ausgabe 4/2015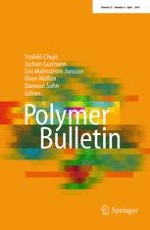 Preparation and characterisation of poly(hydroxyalkanoate)/
Ganoderma lucidum

fibre composites: mechanical and biological properties
Zeitschrift:
Autor:

Chin-San Wu
Abstract
Composite materials made from
Ganoderma lucidum
fibre (GLF) and poly(hydroxyalkanoate) (PHA) or acrylic acid-grafted PHA (PHA-
g
-AA) were characterised with regard to biocompatibility. GLF was homogeneously dispersed in the PHA-
g
-AA matrix as a result of condensation reactions. Mechanical characterisation indicated that the improved adhesion between GLF and PHA-
g
-AA enhanced the tensile strength of the composite compared with that of PHA/GLF. The PHA-
g
-AA/GLF composites were also more water resistant than the PHA/GLF composites. Human foreskin fibroblasts (FBs) were seeded on two series of these composites to assess biocompatibility. FB proliferation, collagen production, and the percentage of normal cells growing on the PHA/GLF composites were greater than those for the PHA-
g
-AA/GLF composites.