01.01.2015 | Short Communication | Ausgabe 1/2015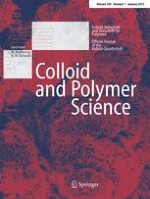 Preparation and characterization of glycyrrhetinic acid-modified poly(ethylene glycol)-poly(β-benzyl-
l

-asparate) nanoparticles as liver-targeted delivery system
Zeitschrift:
Autoren:

Xing Zeng, Li Guo, Li Fang Ma
Abstract
An effective liver-targeted delivery system was successfully developed by designing ligand-mediated nanoparticles composed of glycyrrhetinic acid (GA)-conjugated block copolymers (glycyrrhetinic acid-modified poly(ethylene glycol)-poly(β-benzyl-
l
-asparate, GA-PEG-PBLA) synthesized via ring-opening polymerization of the β-benzyl-
l
-asparate
N
-carboxyanhydride (BLA-NCA) monomer initiated by GA-modified polyethylene glycol (PEG). Chemical structures of the synthesized polymers were confirmed by
1
H nuclear magnetic resonance (
1
H NMR) and Fourier transform infrared assay (FTIR) and molecular weight determined by gel permeation chromatography (GPC). The copolymers were processed into nanoparticles for delivery of paclitaxel (PTX). In this work, the PTX-loaded nanoparticles were prepared by the emulsion-solvent evaporation method, and the physicochemical properties and cytotoxicity were investigated. The particle sizes of nanoparticles determined by dynamic light scattering measurements were around 70 nm. Transmission electron microscopy showed that the nanoparticles were spherical in shape. The results of in vitro release tests showed that the release profiles of PTX-loaded nanoparticles had a sustained drug release pattern, and PTX release from nanoparticles at pH 5.8 was much faster than that at pH 7.4. The drug release profiles were also fitted for mathematical models to analyze the release mechanism, and the Korsmeyer-Peppas model was found to be the best fit model, indicating a combined effect of diffusion and erosion mechanisms for drug release. The cytotoxicity based on 3-(4,5-dimethylthiazol-2-yl)-2,5-diphenyltetrazolium bromide (MTT) assay against human hepatic carcinoma HepG2 cells indicated that the GA-PEG-PBLA nanoparticles had low cytotoxicity and good biocompatibility. These results indicated that the GA-PEG-PBLA nanoparticles could be a novel candidate for liver-targeted delivery of poorly water-soluble anticancer drugs.