01.12.2011 | Ausgabe 6/2011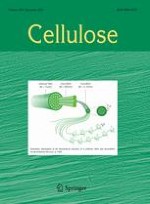 Preparation and characterization of hydrophobic derivatives of TEMPO-oxidized nanocelluloses
Zeitschrift:
Autoren:

Richard K. Johnson, Audrey Zink-Sharp, Wolfgang G. Glasser
Wichtige Hinweise
Electronic supplementary material
The online version of this article (doi:
10.​1007/​s10570-011-9579-y
) contains supplementary material, which is available to authorized users.
Abstract
Amidation and ionic complexation were evaluated as surface modification treatments for TEMPO-oxidized nanocelluloses (TONc), using octadecylamine (ODA) as the modifying compound. Effects of the two treatments on TONc with respect to degree of ODA substitution, surface hydrophobicity, crystalline characteristics, and thermal decomposition properties were investigated, respectively, with elemental analysis, contact angle measurements, X-ray diffraction spectroscopy, and thermogravimetric analysis. Both treatments resulted in complete substitution of TONc surface carboxyl groups with ODA, transforming TONc surfaces from hydrophilic to hydrophobic. A slightly greater than one-to-one ODA-to-carboxyl ratio was found for the ionic complexation product, giving it a more hydrophobic character than the amidation product. Furthermore, the ionic complexation product was found to be surprisingly stable in acidic environment and was able to resist dissociation at fairly low pH. TONc from both treatments could be readily dispersed in organic solvents of wide-ranging polarities, making ionic complexation an equally effective surface modification approach as amidation for the hydrophobization of TONc surfaces. It was also found, through X-ray diffraction results that the crystalline structure of TONc was preserved even after the surface modification treatments. Finally, the thermal stability of TONc was slightly increased as a result of the surface modification treatments as evidenced by slight shifts to higher values of TONc thermal decomposition temperature.