21.07.2017 | Chemical routes to materials | Ausgabe 21/2017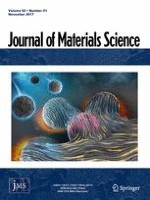 Preparation and characterization of monodisperse silica nanoparticles via miniemulsion sol–gel reaction of tetraethyl orthosilicate
Zeitschrift:
Autoren:

Quoc-Thai Pham, Zong-Han Yao, Yun-Ting Wang, Yu-Ting Wu, Chorng-Shyan Chern
Wichtige Hinweise
Electronic supplementary material
The online version of this article (doi:
10.​1007/​s10853-017-1402-1
) contains supplementary material, which is available to authorized users.
Abstract
Monodisperse silica nanoparticles were prepared via miniemulsion sol–gel reaction of tetraethyl orthosilicate (TEOS). Hexadecane (HD) or hexadecyltrimethoxysilane was used as costabilizer to effectively retard the Ostwald ripening process involved in TEOS miniemulsion. The Ostwald ripening behavior was characterized by dynamic light scattering (DLS), and it was adequately described by the modified Kabal'nov equation. The miniemulsion sol–gel reaction of TEOS/HD with a volume fraction (
φ
c
) of 0.024 at 80 °C is stable in the pH range 6–10. By contrast, gelation of reacting miniemulsions occurs at 70 and 100 min at pH 4 and 5, respectively. The weight-average silica particle size (
d
w
) of colloidal products prepared at 80 °C and pH 7 decreases from 59 to 36 nm with low polydispersity index (PDI, in the range 1.02–1.03), determined by transmission electron microscopy, when the
φ
c
of HD increases from 0.024 to 0.23. At constant
φ
c
(0.024), the resultant silica nanoparticles show larger
d
w
(83 nm) and PDI (1.35) for the TEOS/HD system at pH 10 as compared to the counterpart of pH 7. Furthermore, for the TEOS/HD system at pH 7 and low
φ
c
(0.024),
d
w
increases significantly with temperature being increased from 25 to 80 °C. By contrast, the effect of temperature on silica nanoparticle size becomes insignificant when a high level of HD (
φ
c
= 0.23) is used. Zeta potential measurements and field emission scanning electron microscopy were used to characterize the surface charge density and morphology of resultant silica nanoparticles.