01.06.2011 | Original Paper | Ausgabe 1/2011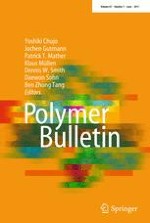 Preparation and characterization of stable and high solid content St/BA emulsifier-free latexes in the presence of AMPS
Zeitschrift:
Autoren:

Mingming Dai, Yuhong Zhang, Peixin He
Abstract
Stable and high solid content (about 50 wt%) St/BA emulsifier-free latexes were successfully synthesized using emulsifier-free emulsion polymerization with the addition of a small amount of reactive emulsifier AMPS. Properties of the latexes, such as the average particle diameter and its distribution, the morphology of latex particles, and stability were investigated. Physical properties of the latex films, i.e., glass transition temperature (
T
g
), water resistance, and solvent resistance were investigated as well. The size of latex particles is 400–600 nm in diameter, which is larger than that prepared by conventional emulsion polymerization. And the particle size distribution is narrow and uniform. It was found that the diameter of the latex particles decreases with the increasing content of the initiator KPS and the reactive emulsifier AMPS. Compared with the film prepared by conventional emulsion polymerization, water resistant and solvent resistant of the films prepared by emulsifier-free emulsion polymerization are improved greatly.