01.02.2020 | ORIGINAL PAPER | Ausgabe 2/2020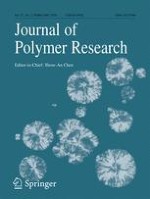 Preparation and mechanical properties of acryl/glass cloth composite materials with low light dispersion
Zeitschrift:
Autoren:

Hideki Sugimoto, Shumma Tonouchi, Keisuke Toda, Eiji Nakanishi
Wichtige Hinweise
Publisher's note
Springer Nature remains neutral with regard to jurisdictional claims in published maps and institutional affiliations.
Abstract
The aim of this study was to prepare transparent acryl/glass cloth composite materials with low light dispersion and high mechanical properties (modulus and strength) by using E-glass cloth and photo-curable acrylate monomers. The influences of the refractive index of the matrix, and the addition of comonomers and silica nanoparticles treated with silane coupling agent on the transparency, wavelength dependence of transmittance, and tensile properties of the composite materials were investigated. The acryl/glass cloth composite material prepared with E-glass cloth and 2,2-bis[4-(acryloxy diethoxy) phenyl] propane (ABPE4) indicated high transmittance at 600 nm, while the transmittance at 400 nm was reduced due to the scattering at the interface of the matrix and the glass fibers because the refractive index difference was large at shorter wavelengths. The usage of a comonomer with a lower refractive index than ABPE4 was an effective way to decrease the refractive index mismatch between the matrix and the glass fibers, and the transparency of the resulting composite material was improved. Moreover, the mechanical performance of the acryl/glass cloth composite material was increased by adding comonomer with a high affinity for glass cloth to matrix. The addition of silica nano particles treated with a silane coupling agent to the matrix was also a useful method for not only improving the transparency, but also improving the mechanical performance, because the nano particles on the fiber surface reduced the refractive index difference and increased the surface area and bonding strength at the interface of the matrix and the fibers.