01.10.2011 | Ausgabe 2/2011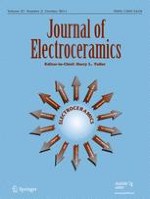 Preparation and properties of strontium barium niobate based glass-ceramics for energy storage capacitors
Zeitschrift:
Autoren:

Guo-hua Chen, Wen-jun Zhang, Xin-yu Liu, Chang-rong Zhou
Abstract
Na
2
O–BaO–SrO–Nb
2
O
5
–B
2
O
3
–SiO
2
glass-ceramics were prepared by melt-casting followed by controlled crystallization. X-ray diffraction results show that Ba
0.27
Sr
0.75
Nb
2
O
5.78
with tungsten bronze structure formed as the dielectric phases from the glass matrix at 800°C. However, a secondary phase NaSr
1.2
Ba
0.8
Nb
5
O
15
occurs when crystallization temperature exceeds 850°C. The glass-ceramics exhibit excellent stability in permittivity values from room temperature to 200°C and low dielectric losses below 0.05. Electrical testing demonstrates that the breakdown strength increases with crystallization temperature. The
P–E
characteristics at room temperature do not show any clear ferroelectric behavior. The glass-ceramic material heated at 800°C/3 h + 950°C/3 h shows a breakdown strength of 1400 kV/cm and its energy storage density can reach up to 4.0 J/cm
3
, which may be a strong candidate for high energy density storage capacitors for portable or pulsed power applications.