01.06.2016 | Ausgabe 6/2016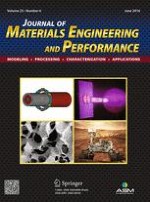 Preparation and Thermoelectric Properties of Sn-Based Type VIII Single-Crystalline Clathrate Via a-Sn Flux Method
Zeitschrift:
Autoren:

Feng Cheng, Lanxian Shen, Decong Li, Hongxia Liu, Jinsong Wang, Shukang Deng
Abstract
In this study, type VIII Ba
8
Ga
16
Sn
30
single-crystal clathrates with different stoichiometric ratios were prepared using the a-Sn self-flux method. The structures of the samples were also investigated. Results indicate that n-/p-type single-crystal clathrates can be obtained by adjusting the initial content of Ga. Samples were determined to be n-type when the initial Ga content was
X
= 12, 13, and 14; and p-type when
X
= 16 and 18. The samples exhibited high melting points and large lattice parameters, as well as increasing Ga content. The electrical conductivities of the samples were lower than those prepared using the Sn self-flux method because of the low carrier concentration. The elemental composition of the sample was near the theoretical value when the Ga content was
X
= 14 and 16, which also yielded the highest Seebeck values of −523 μV/K and 331 V/K, respectively. Finally, the sample with
X
= 14 and 18 exhibited the highest
ZT
values of 0.82 and 0.46, respectively, at a temperature of 480 K in n-/p-type.