11.05.2018 | Original Paper | Ausgabe 12/2018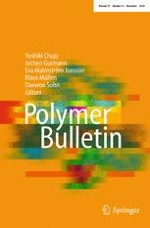 Preparation, characterization and degradation kinetics of transparent fluorinated polyimides with low dielectric constants and excellent hydrophobic properties
Zeitschrift:
Autoren:

Linshuang Li, Yong Xu, Jianfei Che, Xu Su, Chaoran Song
Abstract
In order to investigate the effect of trifluoromethyl (–CF
3
) group on the optical, dielectric, hydrophobic properties and degradation kinetics of transparent fluorinated polyimides, three kinds of fluorinated polyimides, 6FDA-TFMB, 6FDA-ODA and ODPA-TFMB, were prepared from 4,4′-(hexafluoroisopropylidene)diphthalic anhydride(6FDA), 4,4-oxydiphthalic anhydride(ODPA), 2,2′-bis(trifluoromethyl)-[1,1′-biphenyl]-4,4′-diamine(TFMB) or 4,4′-oxydianiline(ODA) by thermal imidization. The chemical structures were characterized by Fourier transform infrared and
1
H NMR spectra. The fluorinated polyimides exhibited good optical properties with the cutoff wavelength (
λ
0
) low to 330 nm. They had tensile strength, modulus of elasticity and elongation at break in the ranges of 75.7–105.3, 4.9–12.3 MPa and 6.8–16.1%, respectively. They also exhibited low dielectric constants ranging from 2.85 to 3.38 and excellent hydrophobic properties with water absorptions below 0.65% and water contact angles beyond 103.3°. The 5% weight loss temperature (
T
5%
) was up to 480 °C, and the 10% weight loss temperature (
T
10%
) was beyond 518 °C, indicating that the resulting fluorinated polyimides exhibited excellent thermal stability. Moreover, the thermal degradation kinetics of the resulting fluorinated polyimides were investigated by thermogravimetric analysis at various heating rates under nitrogen atmosphere. The average apparent activation energy (
E
a
) of the resulting fluorinated polyimides was calculated by using Flynn–Wall–Ozawa method, Kissinger–Akahira–Sunose method and Kissinger method without any knowledge of reaction mechanism.