02.08.2021 | Original Research Article | Ausgabe 10/2021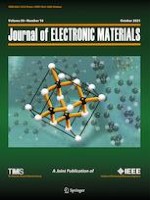 Preparation of a Large-Grained Cu2ZnSnS4 Thin-Film Absorbent Layer by Two-Cycle Deposition Sulfurization
Zeitschrift:
Autoren:

Xiaoming Li, Ruiting Hao, Jie Guo, Yunpeng Wang, Kang Gu, Shuiliu Fang, Huimin Liu, Shuaihui Sun, Guoshuai Wei, Xiaole Ma
Wichtige Hinweise
Publisher's Note
Springer Nature remains neutral with regard to jurisdictional claims in published maps and institutional affiliations.
Abstract
This study proposes a new optimized preparation method for Cu2ZnSnS4 (CZTS) absorbent film. The aim is to overcome the problems faced when the conventional sol–gel method is used, which includes a smaller grain size and a small nanoparticle layer present at the bottom of the film. Our absorbent layer preparation process is divided into two cycles. In the first cycle, a low-thickness precursor film is spin-coated on molybdenum-coated soda-lime glass (SLG) and then sulfurized once. In the second cycle, the sample obtained in the first cycle is used as the substrate for spin coating, so as to obtain a second low-thickness precursor film. This is then followed by the second sulfurization process, which achieves the final absorbent layer film. Surface and cross-sectional images from the scanning electron microscope (SEM) show that the prepared absorbent layer of the film has a dense surface and CZTS large grains penetrate it in its entirety, which effectively reduces the bottom fragmented grains. It is found that under the same experimental conditions, our method increases the PCE from the traditional method's 1.66% to 3.60%. This thereby demonstrates the feasibility of the present method to improve the quality of the absorbent layer, which in turn has a certain significance for the further improvement of the efficiency of CZTS thin-film solar cells.