01.08.2014 | Original Paper | Ausgabe 8/2014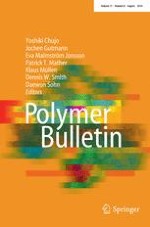 Preparation of a novel pH-sensitive hydrogel based on acrylic acid and polyhedral oligomeric silsesquioxane for controlled drug release of theophylline
Zeitschrift:
Autoren:

Deyong Huang, Chunling Zhang, Kaifeng Yu, Tingting Wang, Jianxin Mu
Abstract
Hydrogels based on pH-sensitive polymers are of great interest as potential biomaterials for the controlled delivery of drug molecules. In this study, a novel pH-sensitive copolymer hydrogel based on acrylic acid (AA) monomer by free-radical solution polymerization were synthesized with organic–inorganic cross-linking agent of octavinyl polyhedral oligomeric silsesquioxane (OVPOSS). And its properties were compared with conventional hydrogels using
N,N
′-methylenebisacrylamide (MBA) as cross-linking agent. The copolymers were characterized by Fourier transform infrared spectra and differential scanning calorimetry. The morphology after swelling was presented by scanning electron microscopy. Swelling behaviors in different pH and potential applications in controlled drug delivery of the hydrogels were also examined. The results showed that both hydrogels were pH sensitive. However, as the addition of OVPOSS limited the movement of the molecular chain segment, the swelling ratio and the drug-release rate of theophylline in SGF decreased obviously when using OVPOSS as cross-linking agent, comparing with P(MBA-
co
-AA) hydrogels. The results in this study suggested that P(OVPOSS-
co
-AA) could serve as potential candidate for theophylline drug delivery.