08.03.2018 | Original Paper | Ausgabe 4/2018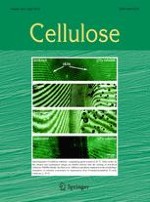 Preparation of cellulose-chitosan foams using an aqueous lithium bromide solution and their adsorption ability for Congo red
Zeitschrift:
Autoren:

Ung-Jin Kim, Dabum Kim, Jungmok You, Joon Weon Choi, Satoshi Kimura, Masahisa Wada
Abstract
Herein, we present a new process for the preparation of cellulose-chitosan foams using an aqueous lithium bromide (LiBr) solution. After obtaining hydrogels via dissolution-regeneration from an aqueous LiBr solution and methanol, cellulose-chitosan foams were prepared via solvent exchange (water → ethanol → 
t
-butyl alcohol) followed by freeze-drying. The amino group content and elemental analysis confirmed the successful preparation of three foam grades by controlling the blend ratio of cellulose and chitosan. The cellulose-chitosan foams possessed three-dimensional porous networks composed of nano-fibrils. The swelling properties of the foams improved due to the presence of amino groups. The cellulose-chitosan foams exhibited a higher adsorption capacity (1170.2 mg/g) of Congo red compared to the cellulose (623.2 mg/g). The adsorption–desorption process of Congo red demonstrated the strong interactions between chitosan and Congo red. The cellulose-chitosan foams could be applied as an adsorbent for the treatment of industrial wastewater, especially for anionic dyes.