19.03.2019 | Original Paper: Fundamentals of sol-gel and hybrid materials processing | Ausgabe 2/2019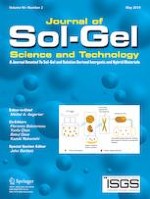 Preparation of cerium dioxide microspheres by internal gelation with cerium citrate as precursor
Zeitschrift:
Autoren:

Xueqiang Ding, Jingtao Ma, Xiangwen Zhou, Xingyu Zhao, Shaochang Hao, Changsheng Deng, Guanxing Li
Wichtige Hinweise
Publisher's note:
Springer Nature remains neutral with regard to jurisdictional claims in published maps and institutional affiliations.
Abstract
Cerium dioxide microspheres were successfully prepared by internal gelation with cerium citrate as the precursor. The effects of solution containing hexamethylenetetramine (HMTA) and urea on the stability of precursor solution and on the sintered microspheres were investigated. The results indicate that the gelled microspheres were composed of [CeCit∙xH2O]. Propylene glycol methyl ether was a good solvent for solvothermal treatment. The solution containing HMTA and urea had an important effect on the stability of precursor solution; it also greatly affected the surface morphology, specific surface area, pore volume, and average pore diameter of microspheres. The porous CeO2 microspheres were obtained by sintering at 600 ℃ for 2 h. CeO2 microspheres prepared with cerium citrate as precursor had a larger pore volume than microspheres prepared with cerium hydroxide as the precursor.
×