05.02.2018 | Original Paper: Sol-gel and hybrid materials for optical, photonic and optoelectronic applications | Ausgabe 3/2018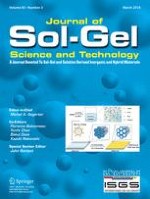 Preparation of dye-sensitized solar cells using template free TiO2 nanotube arrays for enhanced power conversion
Zeitschrift:
Autoren:

N. Sriharan, N. Muthukumarasamy, T. S. Senthil, Misook Kang
Wichtige Hinweise
Highlights:
Template free TiO2 nanotube arrays were prepared from simple sol-gel method

TiO2 nanoparticles decorated/attached ZnO nanorods (TiO2@ZnO) are synthesized

The maximum power conversion efficiency of 5.18% was obtained for nanotube based solar cell
Abstract
By using the vertically aligned ZnO nanorod arrays (NRAs), TiO
2
nanoparticles attached ZnO nanorods (TiO
2
@ZnO) and TiO
2
nanotube arrays (NTAs) were prepared from feasible seed-induced template free sol-gel dip coating method. TiO
2
NTAs were prepared by removing the ZnO nanorod cores using wet-chemical etching. By using TiO
2
NTAs as working electrode, dye-sensitized solar cell with enhanced power conversion efficiency was obtained. To verify the formation of TiO
2
NTAs various characterization techniques such as X-ray diffraction, UV-VIS absorbance spectra, Field Emission Scanning Electron Microscopy (FESEM), Energy-Dispersive Spectra (EDS), and High-Resolution Transmission Electron Microscopy (HRTEM) have been used. X-ray diffraction patterns of ZnO NRAs and TiO
2
@ZnO NRAs indicate that prepared films possess both the ZnO wurtzite (002) and TiO
2
anatase (101) phase. FESEM image clearly shows that vertically aligned ZnO nanorods having the diameter and length of ∼180–240 nm and ∼1.5 μm, respectively, have been formed. The FESEM image also clearly showed that diameter and length of TiO
2
@ZnO NRAs are ∼250–320 nm and ∼1.5 μm, respectively. By using UV-VIS absorption spectra, the band gap of vertically aligned ZnO NRAs, TiO
2
@ZnO NRAs, and TiO
2
NTAs have been calculated and its values were 3.14, 3.20, and 3.52 eV, respectively. The dye-sensitized solar cell was prepared by using three different working electrodes ZnO NRAs, TiO
2
@ZnO, and TiO2 NTAs. The power conversion efficiency of dye-sensitized solar cells prepared using ZnO NRAs, TiO
2
@ZnO, and TiO
2
NTAs are 3.53%, 4.04%, and 5.18%, respectively. TiO
2
NTAs with 10 s HCl etching exhibited the highest photoelectric conversion efficiency of 5.18% with short-circuit photocurrent density (
J
sc
) = 13.34 mA/cm
2
and open-circuit photovoltage (
V
oc
) = 0.63 V.
×