01.09.2018 | ORIGINAL PAPER | Ausgabe 9/2018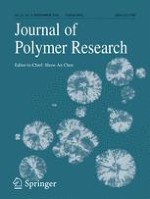 Preparation of mechanically strong poly (ether block amide)/Mercaptoethanol breathable membranes for biomedical applications
Zeitschrift:
Autoren:

Bhausaheb B. Sole, Sarika Lohkna, Pranshu K. Chhabra, Ved Prakash, Geetha Seshadri, Ajay K. Tyagi
Abstract
Poly (ether block amide) (PEBA) was modified with Mercaptoethanol (ME) to introduce crosslinks in its polymeric structure and emphasis was laid on obtaining non-porous breathable membranes with improved mechanical properties which can be used for various biomedical applications. Pebax MH 1657 (mentioned as PEBA throughout the text) was cast polymerized with ME and the effect of ME on the properties of the membranes (such as water absorption, permeability, tensile strength, elongation & tear strength) was studied. Fourier Transform Infrared Spectroscopy- Attenuated Total Reflectance (FTIR-ATR), Scanning Electron Microscopy (SEM), Atomic Force Microscopy (AFM), Differential Scanning Calorimetry (DSC), Thermogravimetric Analysis (TGA) and Differential Thermogravimetry (DTG) techniques were used to characterize the membranes. Different amount of ME (10 to 40%
w
/w) was added to PEBA and 30% of ME was found to be most effective in increasing the mechanical properties of the membrane. Sulfhydryl group played an important role in enhancing mechanical strength of the membranes. PEBA/ME based non porous breathable membrane with excellent mechanical strength is a novel material that can be used for various biomedical applications.