01.08.2016 | Original Contribution | Ausgabe 8/2016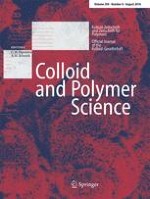 Preparation of molecularly imprinted polymer for methylene blue and study on its molecular recognition mechanism
Zeitschrift:
Autoren:

Nong Wang, Shi-Jun Xiao, Cheng-Wu Su
Wichtige Hinweise
Supporting information
Supporting information is available from the Wiley Online Library or from the author.
Abstract
A new methylene blue molecularly imprinted polymer (MB-MIP) was synthesized by inverse microemulsion polymerization with methylene blue (MB) as the imprinted template molecules. It exhibited higher selectivity in comparison with the nonimprinted polymer (NIP), and the maximum adsorption amount of the MB-MIP for MB reached 3628.84 mg g
−1
, which was even higher than activated carbon at high MB concentrations. Compared with gentian violet (GV) and malachite green (MG), MB-MIP has the highest affinity to MB. In addition, the adsorption property of MB-MIP were well represented by the pseudo-second-order kinetic model, the Langmuir isotherm model, and the Weber-Morris model, indicating that the adsorption process is chemical adsorption and the main process of the adsorption rate-controlling step was particle internal diffusion. The adsorption thermodynamic parameters Δ
G
0
show that the adsorption process was spontaneous.