01.05.2019 | Research Paper | Ausgabe 5/2019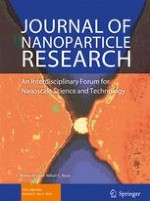 Preparation of niobium-based oxygen carriers by polyol-mediated process and application to chemical-looping reforming
Zeitschrift:
Autoren:

Pedro Henrique Lopes Nunes Abreu dos Santos, Sophie Nowak, Stephanie Lau-Truong, Juliette Blanchard, Patricia Beaunier, José Augusto Jorge Rodrigues, Roberta Brayner
Wichtige Hinweise
Publisher's note
Springer Nature remains neutral with regard to jurisdictional claims in published maps and institutional affiliations.
Abstract
New niobium-based oxygen carriers were prepared adopting polyol-mediated process. Four different polyols were used (diethylene glycol, triethylene glycol, tetraethylene glycol, and 1,2-propanediol) and four different quantities of water (0 mL, 1 mL, 10 mL, 30 mL, with a total volume of 80 mL of solution). Series of bulk and alumina-supported materials were prepared. Different structural and textural properties were obtained, depending on polyol type and hydrolysis ratio. After thermal treatment at 1000 °C, alumina-supported materials were evaluated in a lab-scaled fixed bed reactor. Despite a low conversion of methane due to a low content of active phase AlNbO4, they presented a high selectivity to syngas (a mixture of H2 and CO) during the first few seconds of reaction with CH4, indicating a high selectivity towards chemical-looping reforming process.