01.12.2009 | Original Contribution | Ausgabe 12/2009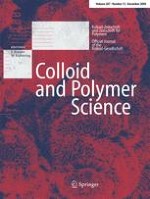 Preparation of PCM microcapsules by complex coacervation of silk fibroin and chitosan
Zeitschrift:
Autoren:

Senem Sirin Deveci, Guldemet Basal
Abstract
Phase change material microcapsules were prepared by complex coacervation of silk fibroin (SF) and chitosan (CHI).
n
-Eicosane was used as the core material. The effects of SF/CHI ratio, and percentage of cross-linking agent and
n
-Eicosane content on the properties of microcapsules were studied. The size distribution and the surface morphology of microcapsules were characterized by optical and scanning electron microscopy. The encapsulation of core material was determined by energy dispersive spectrometer analysis. The results indicated that SF/CHI microcapsules were prepared successfully. Microcapsules had smooth outer surface when the ratio of SF to CHI was close to 5. On the other hand, at high SF/CHI ratios (≥14), microcapsules showed a two-layer structure, an inner compact layer, and an outer, more porous, sponge-like layer. The highest microencapsulation efficiency was obtained at a SF/CHI ratio of 20 in the presence of 0.9% cross-linking agent and of 1.5%
n
-Eicosane content.