31.03.2017 | Original Contribution | Ausgabe 5/2017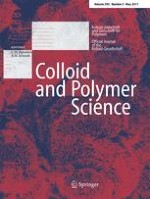 Preparation of poly(
N

-isopropylacrylamide)/montmorillonite composite hydrogel by frontal polymerization
Zeitschrift:
Autoren:

Qiao Feng, Xiang Chen, Ya-qi Zhao, Shan-shan Hu, Zhi-wei Xia, Qing-Zhi Yan
Abstract
Temperature-sensitive poly(N-isopropylacrylamide)/montmorillonite (PNIPAM/MMT) composite hydrogel was prepared by frontal polymerization. The effects of the MMT content and size of the reactor on the polymerization process and the properties of the products were investigated. The results indicated that the rapid thermal front propagation effectively suppressed the phase separation and caused a uniform distribution of MMT particles inside the PNIPAM matrix. The addition of MMT increased the compressive strength of composite hydrogel by 70% when compared to the one of the homopolymer but did not affect the lower critical solution temperature
)
(LCST) of the hydrogel. The product containing 5 wt% MMT presented the quickest temperature response among all tested samples. As the diameter of the reactor increased, the front velocity and the front temperature increased but the compressive strength had a tendency to decrease. During the cycle uses, the performance of the composite gel prepared by frontal polymerization was almost maintained constant in contrast to the ones of the conventionally polymerized-product.