15.08.2018 | Ausgabe 6/2018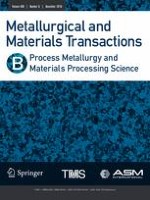 Preparation of Vanadium Nitride by Magnesiothermic Reduction of V2O3 in Nitrogen Atmosphere
Zeitschrift:
Autoren:

Yue-Dong Wu, Guo-Hua Zhang, Kuo-Chih Chou
Wichtige Hinweise
Manuscript submitted April 12, 2018.
Abstract
The development of a highly efficient and low-cost production process is instrumental for the wide application of vanadium nitride (VN). The strong affinity of vanadium with carbon and oxygen resulted in the significant difficulty to produce VN with a high purity. In this paper, a novel production route was proposed that involves the magnesiothermic reduction and nitration of vanadium (III) oxide (V2O3) in nitrogen atmosphere with the assistance of magnesium chloride (MgCl2) in the temperature range of 948 K to 1073 K (675 °C to 800 °C). Compared with the traditional methods, there was no contamination of carbon. Meanwhile, oxygen content can be controlled to a low level. Furthermore, VN could be prepared at low temperatures within a short time, which was beneficial for decreasing the particle size of VN. The phase transition and morphological evolution of samples were analyzed by X-ray diffraction and Field-Emission Scanning Electron Microscopy, respectively. The experimental results showed that high temperature assisted in decreasing the residual oxygen content in VN but can decrease the specific surface area. Oxygen content of the obtained VN powder after reacting at 1073 K (800 °C) for 3 hours was 1.36 wt pct.