10.05.2018 | Ausgabe 5/2018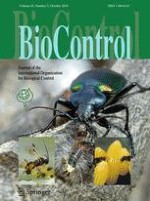 Presence of a generalist entomopathogenic fungus influences the oviposition behaviour of an aphid-specific predator
Zeitschrift:
Autoren:

A. G. C. de Azevedo, R. M. Stuart, L. Sigsgaard
Wichtige Hinweise
Handling Editor: Marta Montserrat.
Abstract
The predator
Aphidoletes aphidimyza
(Rondani) (Diptera: Cecidomyiidae) and the generalist entomopathogenic fungus
Metarhizium brunneum
Petch (Hypocreales: Clavicipitaceae) are effective biological control agents that can co-occur in pest management programmes. We exposed larvae to
M. brunneum
, on leaves and in soil, to explore possible outcomes of combining the two natural enemies. The number of emerging adults and their longevity were negatively affected by fungus in the soil. When exposed on leaves, adult emergence was unaffected but longevity was reduced. In choice experiments, females chose to lay eggs on fungus-free leaves: more control leaves had eggs and there were more eggs per leaf in the control. In no-choice experiments, the same frequency of females laid eggs in the treatment and control, but significantly more eggs were laid on the control leaves. Gravid
A. aphidimyza
can perceive
M. brunneum
and respond by choosing fungus-free oviposition sites, thus reducing contact between them.