01.01.2015 | Ausgabe 1/2015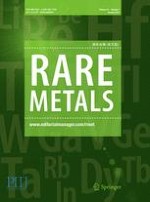 Pressure nitric acid leaching of alkali-pretreated low-grade limonitic laterite
Zeitschrift:
Autoren:

Yong-Lu Zhang, Cheng-Yan Wang, Yong-Qiang Yang, Fei Yin, Bao-Zhong Ma
Abstract
The pressure nitric acid leaching of alkali-pretreated low-grade limonitic laterite, as well as removing impurity Al(III) and preparing intermediate product of nickel/cobalt sulphide from leaching liquor were investigated. After pretreatment, iron exists in the form of amorphous iron oxides, while nickel is adsorbed on the surface of iron oxides in the form of nickel oxide. The preferable pressure leaching conditions are determined as follows: leaching temperature of 458 K, leaching duration of 60 min, initial acidity of nitric acid of 1.90 mol
·
L
−1
and liquid to solid ratio of 3:1 (volume to mass ratio). Under these conditions, the leaching efficiencies of Ni, Co and Al are 95 %, 88 % and 55 %, respectively, and that of Fe is less than 1 %. The loss rates of Ni and Co are 1.8 % and 1.5 %, respectively, during the step of removing impurity Al(III). The sulphide precipitation process produces the interim production of nickel/cobalt sulphides, recovering greater than 99 % of Ni and Co in the purified solution. The iron-rich (>60 %) pressure leaching residue with low Cr, S can be further reclaimed as the raw materials for iron making.