2017 | OriginalPaper | Buchkapitel Open Access
Principled Evaluation of Strengths and Weaknesses in FLOSS Communities: A Systematic Mixed Methods Maturity Model Approach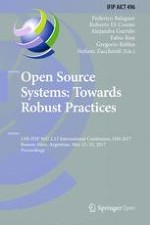 Autoren: Sandro Andrade, Filipe Saraiva
Abstract
Context:
Free and Open Source Software usually results from intricate socio-technical dynamics operating in a diverse and geographically dispersed community. Understanding the fundamental underpinnings of healthy and thriving communities is of paramount importance to evaluate existing efforts and identify improvement opportunities.
Objective:
This paper presents a novel reference model for evaluating the maturity of FLOSS communities by mixing quantitative and qualitative methods.
Method:
We build upon established guidelines for Design Science research in order to devise a well-informed and expressive maturity model, describing how those methods and procedures were used in the design and development of such a model.
Results:
We present the model structure and functions, as well as instructions on how to instantiate it as evaluations of FLOSS communities. The use of the proposed maturity model is demonstrated in four FLOSS communities.
Conclusion:
Whilst instantiating the model may be burdensome if aiming at sketchy evaluations, results indicate our model effectively captures the maturity regardless aspects such as community size and lifetime.