2016 | OriginalPaper | Buchkapitel
Principles and Methods That Facilitate Convergence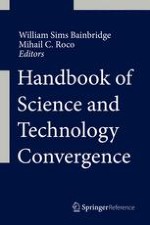 Erstes Kapitel lesen
Autor: Mihail C. Roco
Abstract
The main benefits of science and technology convergence are increasing creativity, innovation, and productivity. Various methods to improve and expedite convergence aim at adding value in the convergence process and enabling people to more readily use new convergence-enabled competencies. These methods are based on applying five general principles of convergence:
1.
Exploiting interdependence among domains
: Convergence methods associated with this principle include integrating originally distinct domains and databases of science and technology; forming efficient science and production networks and ecosystems; changing local interactions and guided self-organization in systems to encourage, enable, and reward desired outcomes and governance improvements; supporting system science and team science; and advancing S&T dedicated social networking, holistic management, and interpersonal and intrapersonal education.
2.
Improving the convergence
–
divergence evolutionary cycle
: Convergence methods associated with this principle include balancing support for the creative, integration, innovation, and spin-off phases of the process; supporting the cross-domain spiral of innovation; facilitating open collaboration and innovation; combining knowledge and technology pushes from the convergence stage with societal pulls from the divergence stage; and scaling up knowledge and technology diffusion in the divergence stage.
3.
System
-
logic deductive decision making and problem solving
: Convergence methods associated with this principle include a holistic approach to problem solving in complex systems; combining deduction with induction, lateral, and time evolution approaches in decision making; balancing bottom-up research with top-down vision; and using knowledge mapping, network visualization, and fractal analysis to identify the relevant cause-and-effect system patterns.
4.
Creating and applying high
-
level cross
-
domain languages to facilitate transfer of knowledge and new solutions
: Convergence methods associated with this principle include using universal languages such as mathematical abstractization, music, and general system architectures and focusing on essential aspects through "simplicity"; promoting technology integrators and benchmarking to facilitate introduction of emerging technologies in multiple areas; and creating and sharing large multidomain databases and trading zones between areas of research and education in distinct areas.
5.
Using
"
vision
-
inspired
"
basic research to address long
-
term challenges
: Convergence methods associated with this principle include forecasting and scenario development; promoting a culture of convergence based on common goals; anticipatory measures for preparing people, tools, organizations, and infrastructure; and reverse mapping and planning.
S&T convergence has the potential to transform the education, research, and production ecosystems. A challenge in proactively guiding the convergence process is to deliberately encourage public and private efforts that currently contribute to the
unguided
convergence of knowledge and technology to use a
systematic approach
to convergence that may amplify the most beneficial endeavors in the knowledge society. Illustrations of applying the methods for convergence to research, development, and education governance are discussed.