2008 | OriginalPaper | Buchkapitel
39. Principles of Spoken Language Recognition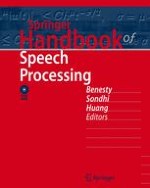 Erstes Kapitel lesen
Autor: Dr. Chin-Hui Lee
Verlag: Springer Berlin Heidelberg
Abstract
In this introductory chapter to Part G of this Handbook on spoken language recognition, we provide a brief overview of the principles of state-of-the-art language recognition approaches, and a general discriminative training framework to improve the performance and robustness of language recognition systems. It is followed by three chapters. The first of these addresses issues related to spoken language characterization in which knowledge sources can be utilized to distinguish one language from another. The second chapter deals with language identification based on phone recognition followed by language modeling using either spectral or token-based approaches. The third chapter presents vector-space characterization approaches to converting speech utterances into spoken document vectors for modeling and classification. With recent progress in speech processing, machine learning, and text categorization, we expect significant technology advances in spoken language recognition in the years to come.
This chapter is organized as follows. Section
39.2
briefly describes the principle of spoken language recognition. Sections
39.3
and
39.4
formulate the popular parallel phone recognition followed by language modeling (P-PRLM) and vector-space characterization (VSC) approaches to spoken language identification. In Sect.
39.5
we extend these formulations to spoken language verification. Finally a general discriminative training framework for non-support vector machine (non-SVM) classifiers is presented in Sect.
39.6
, followed by a brief summary in Sect.
39.7
.