2011 | OriginalPaper | Buchkapitel
2. Principles of TiO2 Photocatalysis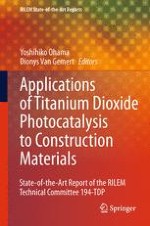 Erstes Kapitel lesen
Autoren: Marta Castellote, Nicklas Bengtsson
Verlag: Springer Netherlands
Abstract
A substance can be thought to be a
catalyst
when it accelerates a chemical reaction without being consumed as a reactant; that is to say, it appears in the rate expression describing a thermal reaction without appearing in the stoichiometric equation [49]. A catalyst is a compound that lowers the free activation enthalpy of the reaction. Then,
photocatalysis
can be defined as the acceleration of a photoreaction by the presence of a catalyst [38, pp. 362–375]. This definition, as pointed out in [29, pp. 1–8], includes
photosensitization
, a process by which a photochemical alteration occurs in one molecular entity as a result of initial absorption of radiation by another molecular entity called the photosensitizer [13], but it excludes the photoacceleration of a stoichiometric thermal reaction irrespective of whether it occurs in homogeneous solution or at the surface of an illuminated electrode. Otherwise, any photoreaction would be catalytic [29, pp. 1–8]. Depending on the specific photoreaction, the catalyst may accelerate the photoreaction by interaction with the substrate in its ground or excited state and/or with a primary photoproduct.