2018 | OriginalPaper | Buchkapitel
10. Privacy Policy and Security Issues in E-Commerce for Eliminating the Ethical Concerns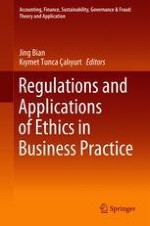 Erstes Kapitel lesen
Autor: Ayşegül Donmaz
Verlag: Springer Singapore
Jetzt einloggen
Abstract
Internet enables a business to reach a customer base numbering in the multi-millions, and, conversely, allows customers to access information, products and services throughout the world (Maury and Kleiner in J Bus Ethics 36:21–31,
2002
). With the internet and the development of marketing by e-commerce, privacy issues became more complicated as a result of the new technology. Consequently, much attention has been devoted to information privacy as one of the issues critical to the success of e-commerce (Son and Kim in MIS Q 32(3):503–529,
2008
). Without the ability to credibly signal their trustworthiness in handling consumer information, website operators will be less able to persuade consumers to share sensitive information, hindering welfare creation for both consumers and retailers and impeding the development of online commerce (Tang et al. in J Manage Inf Syst 24(4):153–173,
2008
). Usually, organizations achieve the obligation of informing data subjects by means of privacy policies (Karat et al. in Int J Human-Comput Stud 63(2005):153–174,
2005
). The aim of this study is to prepare and present a literature review about privacy and security issues in B2C e-commerce for eliminating the ethical concerns of individuals.