01.06.2011 | Review | Ausgabe 3/2011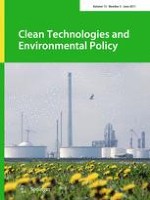 Process design of waste gas treatment from Emirates Gold Refinery
Zeitschrift:
Autoren:

Ahmed Aidan, Raafat Alnaizy, Valentin Nenov, Omar Abdelrahman
Abstract
In this case study, the process modifications and improvement to the existing process at the Emirates Gold refinery (in order to meet the United Arab Emirates (UAE) nitrogen oxides air emission regulations) is presented. In the past, Emirates Gold refinery used a single small scrubber to treat waste gases. In order to treat the waste gas efficiently, it was found that a cooled oxidation reactor (oxidizer) before the existing scrubber, as well as a second scrubber is needed. The waste gas is mixed with air at a fixed ratio before entering the oxidizer which is designed to obtain the optimum degree of NO oxidation (about 50%).To keep the oxidation reactions in the desirable direction the temperature should be kept between 15 and 20°C There for an internal cooler was required. The gas mixture from the Oxidizer enters the first scrubber (existing) where most of the NO
x
, mainly as N
2
O
3
, are absorbed by a NaOH solution (15–20%). The remaining NO
x
, mainly as N
2
O
3
is absorbed in the second scrubber by a NaOH solution (8–10%). The mass transfer area of the packing in the two scrubbers, the solution circulation rate, and the cooling duty were designed to reach the desired degree of absorption of N
2
O
3
and NO
2
. This ensures that the recommended NO
x
residual value of 500 mg/m
3
(250 ppm) is reached. All reactions occur simultaneously was calculated using EQ4WIN software. The data obtained for different temperatures was processed with Stat View, SuperPro Designer simulation and Aspen HYSYS simulation.