15.02.2020 | Ausgabe 3/2020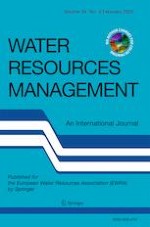 Process Mining Approach of a New Water Quality Index for Long-Term Assessment under Uncertainty Using Consensus-Based Fuzzy Decision Support System
Zeitschrift:
Autoren:

Mohammad Ali Baghapour, Mohammad Reza Shooshtarian, Mahdi Zarghami
Wichtige Hinweise
Highlights
• GFDMWQI has a process mining framework.
• GFDMWQI couples the Big Data mining with fuzzy modeling to analyze the uncertainties.
• Fuzzy modeling minimizes the missing data effects in long-term water quality assessments.
• Soft computing has made the methodology practical for end-users.
• GFDMWQI is flexible for global application.
Publisher's Note
Springer Nature remains neutral with regard to jurisdictional claims in published maps and institutional affiliations.
Abstract
One of the biggest challenges in water quality monitoring is how to optimize big Data gathered from a wide range of resources. This paper presented a new software-based pathway of process mining approach for extending a flexible WQI (Water Quality Index) that would deal with uncertainties derived from missing data occurrence in short- and long-term assessments. The methodology is based on integration of four multi-criteria group decision-making models coupled with fuzzy simulation including AHP (Analytical Hierarchy Process), fuzzy OWA (Ordered Weighting Average), TOPSIS (Technique for Order Preference by Similarity to Ideal Solution), and fuzzy TOPSIS that were used for data mining and group consensus evaluation.. Examining the methodology on groundwater resources being supplied for drinking in Shiraz, Iran showed high integrity, accuracy, and proximity-to-real interpretation of water quality. This was the first study where decision-making risks such as Decision Makers' risk-prone or risk-aversion attitudes (optimistic degree), DMs' power, and consensus degree of each water quality parameter have been considered in WQI research. The proposed index offered a flexible choice in defining the intended project duration, stakeholders' judgments, types of water use and water resource, standards, as well as type and number of water quality parameters. Thus, beside sustaining the unity in structure, this methodology could be suggested as a potentially WQI for other regions. The presented methodology would help more efficient monitoring of water resources for drinking purpose with respect to water quality.