11.11.2020 | Ausgabe 7-8/2020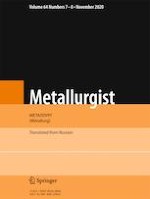 Processing Converter Slags with Total Utilization of All Components
Zeitschrift:
Autoren:

S. A. Kvyatkovskii, E. A. Sit'ko, B. M. Sukurov, A. S. Semenova, R. S. Seisembaev
Wichtige Hinweise
Translated from Metallurg, Vol. 64, No. 7, pp. 70–76, July, 2020.
Currently, almost all plants converted to autogenous smelting of copper-containing concentrates use flotation of converter slags (CS) while leaving 0.55–0.90% Cu in tailings that exceeds the industrial copper ore content. Most of the iron, zinc, lead and silicate components of CS enter dumps. The resultant converter slag concentrate (CSC) contains magnetite having an unfavorable effect on smelting furnace operation, and part of the copper is lost during magnetic separation of the resultant concentrate. A pyrometallurgical method for processing CS with its complete utilization is developed under laboratory conditions. Optimum parameters of the CS-based charge reduction melting are selected by crucible melting: in the first stage at 1250–1300°C copper is extracted into metallized product and the slag composition is adjusted, from which in the second stage at 1450–1500°C iron is reduced and recovered in cast iron. The method provides complete utilization of all slag components. 95% of the copper goes in metallized alloy, and about 0.02% Cu, 2–5% Fe, and 0.2% S remain in the slag of the second reduction stage. The copper-containing alloy is converted, and lead and zinc are transferred into sublimates. The metal-free slag obtained is suitable for use in building objects. In addition, hot slag of stage II depletion may be used as an excellent conversion flux, which is especially important when processing rich matte to blister copper, since this process occurs with an intense thermal balance.