16.10.2018 | Ausgabe 6/2018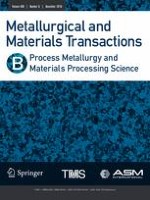 Processing Techniques for ODS Stainless Steels
Zeitschrift:
Autoren:

Chen Dai, Christopher Schade, Diran Apelian, Enrique J. Lavernia
Wichtige Hinweise
Manuscript submitted April 16, 2017.
Abstract
Oxide dispersion-strengthened (ODS) alloys have been studied extensively, in part as a response to the need to develop the high-temperature materials that are required for energy efficient systems. ODS stainless steels, in particular, are of technological interest because of their high ductility and high strength at elevated temperatures, which when combined with their resistance to corrosion, render them ideal for many applications that require extreme performance quality. Survey of the published literature reveals that efforts have been devoted to incorporate specific strengthening mechanisms in order to meet demanding performance criteria for ODS alloys. As a result, a number of novel processing approaches have been developed in an effort to design distinct microstructures that can enhance the performance of ODS alloys. In the current paper, various techniques used to manufacture ODS stainless steel alloys are compared and summarized on the basis of a literature search, and results are contrasted with selected experimental data obtained by the authors. In particular, cryomilling, water-atomization, and melt-spinning processes are described in detail as three novel approaches that can be effectively used to distribute nanometric oxides in 316L stainless steel matrix. The microstructural features, mechanical properties, and sintering behavior of the fabricated materials are described and discussed. The critical processing parameters for each processing technique are discussed with reference to the properties of the material. The versatility and potential challenges of the individual techniques are also described and contrasted.