02.07.2018 | Composites | Ausgabe 20/2018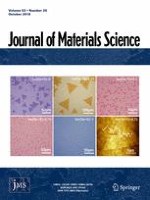 Production and characterization of sustainable poly(lactic acid)/functionalized-eggshell composites plasticized by epoxidized soybean oil
Zeitschrift:
Autoren:

Junjun Kong, Changyu Han, Yancun Yu, Lisong Dong
Abstract
To improve the intrinsic brittleness and crystallization capacity of poly(lactic acid) (PLA), fully sustainable PLA composites were prepared. The biodegradable PLA composites consisted of 10 wt% epoxidized soybean oil (ESO) and different amounts of functional eggshell (FES) with surface modified with calcium phenylphosphonate (PPCa) were prepared by melt blending. Mechanical and crystallization behavior were studied in terms of the weight percentage of FES. ESO-plasticized PLA showed an excellent tensile toughness with the elongation at break increased over than 160% compared to 6% of pure PLA. The elongation at break for PLA composites was still higher than 70% even filled with 30 wt% FES. Besides, the tensile and storage moduli of PLA/ESO/FES composites did not suffer significant deterioration as compared with pure PLA. For cold crystallization behavior, FES with surface modified by PPCa as a good nucleating agent improved the nucleating ability of PLA. The rates of nonisothermal and isothermal cold crystallization of PLA were improved due to the synergistic effect of plasticization and nucleation. The nonisothermal cold crystallization peak temperature (
T
cc
) of PLA composites decreases considerably from 118.7 °C (for pure PLA) to 90 °C. The crystallization half-time of PLA composites is lower than 10 min compared with 162 min of pure PLA after isothermal crystallized at 75 °C. As a consequence, it is encouraging that ESO and FES exhibit great viability for modifying the mechanical and crystallization properties of PLA matrix, which make PLA a promising sustainable alternative to petroleum-based polymers in conventional fields.