01.12.2014 | Original Article | Ausgabe 4/2014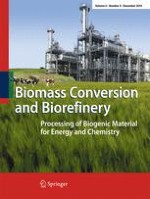 Production of bioethanol from empty fruit bunches cellulosic biomass and Avicel PH-101 cellulose
Zeitschrift:
Autoren:

Rose Amira Karim, Azlan Shah Hussain, Asna Mohd Zain
Abstract
Cellulosic ethanol production was carried out using empty fruit bunches (EFB) via simultaneous saccharification and fermentation (SSF) method. The EFB was pretreated with alkaline treatment using 0.2 M of sodium hydroxide (NaOH) solution followed by mild acid hydrolysis using 3 % of sulfuric acid (H
2
SO
4
), and enzymatic saccharification using derived cellulose,
Trichoderma reesei
prior to fermentation using
Saccharomyces cerevisiae
. Acid hydrolysis-pretreated samples shows the best substrates to be used in fermentation since it can produce the highest amount of glucose and highest percentage of saccharification with 5.3 mg/mL and 48 %, respectively. The EFB hydrolyzate obtained was subjected to fermentation under anaerobic condition. It was found that the highest ethanol yield was 0.42 mg/mL from acid hydrolyze sample. Optimization of SSF was conducted on filter paper unit (FPU), pH and mass loading effect for bioethanol production. Highest ethanol productions from cellulose (Avicel PH-101) are 3.1, 3.7, and 4.6 mg/mL using FPU 217, pH 4, and a 5.0-g cellulose loading accordingly.