20.08.2018 | Ausgabe 3-4/2018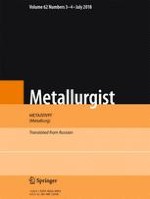 Production of Steel Ingots Without Zonal Chemical Inhomogeneity for the Billets of Parts of Power-Generating Units
Zeitschrift:
Autoren:

N. A. Khlyamkov, V. I. Sergeev, B. I. Berezhko
Wichtige Hinweise
Translated from Metallurg, No. 3, pp. 47–53, March, 2018.
We study the technological specific features of the production of steel ingots without zonal chemical inhomogeneity aimed at manufacturing the billets of various parts of power-generating units made of 15KhN3MFA and 15Kh2MFA steels. The technology of pouring in a vacuum is developed with regard for the results of the numerical analysis of the process of solidification of a steel ingot 13.56 tons in weight by using the Poligon system of automatized modeling of the pouring processes. In order to get high-quality ingots, steel was melted in an EAF-12 according to a special technology guaranteeing low contents of sulfur, phosphorus, nonmetallic inclusions, and hydrogen. The specific structural features of an ingot with a mean diameter of 922 mm and the ratio H/D = 2.05 are taken into account in the development of the technology of forging in a 3000-ton press. Forging is performed for billets 900 × 930 × 1200 mm in size with the axial channel located at the top of the billets. To avoid confusions, sulfur prints were made from the top and bottom surfaces of the billet. The investigations demonstrate that the sulfur prints are practically identical for both surfaces, and small separate sulfur inclusions are uniformly distributed. The macrostructure corresponds to the GOST-10243. The results of UT testing demonstrate that the billets of the parts contain no defects with an area greater than 5 mm2. The mechanical properties at temperatures 20°C and 350°C are practically identical and higher more than the requirements of normative documents by 15–20%. For the additional metallurgical quality examination of the metal, we manufactured a test shell with a height of 1100 mm, an outer diameter of 870 mm, and a wall thickness of 250 mm.