26.10.2019 | RAW MATERIALS | Ausgabe 5-6/2019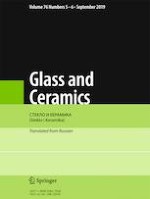 Production of Very Fine, Spherical, Particles of Ferriferous Pigments from the Diatomaceous Raw Material of Kazakhstan
Zeitschrift:
Autoren:

B. K. Kenzhaliev, E. I. Kul'deev, V. A. Luganov, I. V. Bondarenko, I. Yu. Motovilov, S. S. Temirova
Wichtige Hinweise
Translated from
Steklo i Keramika
, No. 5, pp. 40 – 45, May, 2019.
Native raw materials — ferriferous diatomites from the Zhalpak deposit in Kazakhstan — are proposed for use as an accessible, cheap, raw material for obtaining complex iron-oxide silica-containing pigments. Pigments with color gamma were obtained. Electron microscopy, BET analysis, Mossbauer spectroscopy, and x-ray phase spectroscopy were used to determine the mineralogical composition, shape, size, specific surface area, and total pore volume of the particles. Scanning electron microscopy showed that the diatomite particles acquire a spherical shape and size 5 – 10 μm as a result of thermal activation and mechanical action.