01.08.2014 | Ausgabe 4/2014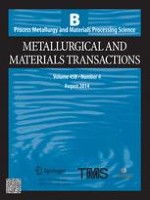 Production of Wire From AA7277 Aluminum Chips
via

Friction-Stir Extrusion (FSE)
Zeitschrift:
Autoren:

Reza Abdi Behnagh, Ramezanali Mahdavinejad, Amin Yavari, Masoud Abdollahi, Morteza Narvan
Wichtige Hinweise
Manuscript submitted October 7, 2013.
Abstract
In this research, fully consolidated wires from aluminum alloy AA7277 machining chips were produced by the friction-stir extrusion (FSE) process. The components used in the friction-stir extrusion process consist of a stationary cartridge and a rotating plunger with a scroll-faced head. The rotating plunger was rotated at three different speeds. Optical microscopy was used to probe the microstructures formed in the wires. The hardness profile of each sample is characterized using a Vickers microhardness tester. In this work, surface quality is sufficient by using a rotation speed of 160 rpm. Cold crack and hot crack defects were shown on wires fabricated using either too low or too high plunger rotation speeds. The microstructure of extruded wire is composed of fully equiaxed, recrystallized fine grains in the center of samples. The microhardness tests show an uneven distribution, and the hardness of the center was lower than that of the parent metal. The tensile tests revealed that the mechanical properties of the extruded wires were comparable with parent material.