2017 | OriginalPaper | Buchkapitel
13. Productive Structure in the Neo-Kaleckian Model of Growth and Distribution: Simulations to the Brazilian Economy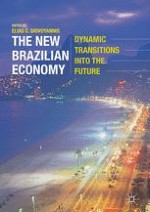 Erstes Kapitel lesen
Autor: Danilo Sartorello Spinola
Verlag: Palgrave Macmillan US
Abstract
This chapter has as its main objective to analyze the relationship between structural change, exchange rate devaluation, growth and income distribution in Brazil. The neo-Kaleckian model of growth and distribution as designed by Cimoli et al. (The production structure, exchange rate preferences and the short run — Medium run macrodynamics.
http://www.fea.usp.br/feaecon/RePEc/documentos/Cimoli_Lima_Porcile12WP.pdf
, 2013) is simulated to the short run, where there are no restrictions to deficits on the balance of payments. This is a post-Keynesian model with Schumpeterian and Latin American structuralist ideas. The shocks in the model are made in order to understand impacts of structural change, wage level increases, and exchange rate devaluations in the Brazilian economy. To accomplish these objectives, the model is calibrated in this chapter using real data for 2011. The results indicate the dynamics of the neo-Kaleckian model and lead to an analysis of possible impacts of changes in the productive sector on growth and income distribution in Brazil.