2016 | OriginalPaper | Buchkapitel
Profiling the Performance of Virtualized Databases with the TPCx-V Benchmark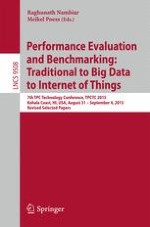 Erstes Kapitel lesen
Autoren: Andrew Bond, Doug Johnson, Greg Kopczynski, H. Reza Taheri
Verlag: Springer International Publishing
Abstract
The proliferation of virtualized servers in data centers has conquered the last frontier of bare-iron servers: back-end databases. The multi-tenancy issues of elasticity, capacity planning, and load variation in cloud data centers now coincide with the heavy demands of database workloads; which in turn creates a call for a benchmark specifically intended for this environment.
The TPC–V benchmark will fill this need with a publicly-available, end-to-end benchmark kit. Using a prototype of the kit, we profiled the performance of a server running 60 virtual machines with 48 databases of different sizes, load levels, and workloads. We will show that virtualized servers can indeed handle the elasticity and multi-tenancy requirements of the cloud, but only after careful tuning of the system configuration to avoid bottlenecks.
In this paper, we will provide a brief description of the benchmark, discuss the results and the conclusions drawn from the experiments, and propose future directions for analyzing the performance of cloud data centers by augmenting the capabilities of the TPCx-V benchmark kit.