2011 | OriginalPaper | Buchkapitel
13. Project Cost and Sustainability Considerations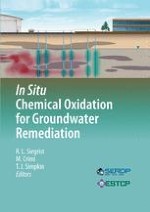 Erstes Kapitel lesen
Autoren: Thomas J. Simpkin, Friedrich J. Krembs, Michael C. Marley
Verlag: Springer New York
Scope
Cost estimating approaches and key components that drive the cost of an
in situ
chemical oxidation (ISCO) system, including sustainability of applications.
Key Concepts
Cost estimates can be prepared in a number of ways and levels of detail that influence accuracy. Understanding costing methods and associated uncertainty is necessary for effective ISCO implementation.

The primary cost components of ISCO systems include professional services, capital costs, operations and maintenance (O&M) costs, and post-remediation closure. It is important to understand all of these components included in a cost estimate. The capital costs for ISCO systems may include the cost for wells and any infrastructure used. The cost for the oxidant may be included in the capital component, if the duration of the applications is short, or in the O&M component.

Based on historical data (Chapter 8), the median cost of the ISCO projects in the database was $220,000, while the median unit cost was $94 per cubic yard (cy) treated. These costs should be used with caution because the cost components included in the data were not always consistent.

For a hypothetical site (Section 13.4), the indirect capital costs, allowances, and markups were about 50% of the total capital costs. For this example, which used injection wells, drilling costs were 16% and injection costs were 62% of the total costs, respectively. These costs included both the labor and the chemicals. Monitoring, reporting, and site closure made up the rest of the costs.

Making remediation projects more sustainable or greener is gaining in interest. A number of factors can be evaluated in a sustainability analysis of a project, including greenhouse gas emissions, energy consumption, reduction of risk to human health, returning an affected resource to beneficial use, and traffic fatalities and other injuries during implementation of the remedy.