Erschienen in: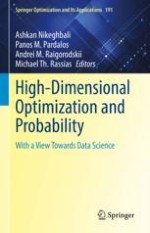 2022 | OriginalPaper | Buchkapitel
Projection of a Point onto a Convex Set via Charged Balls Method
Abstract
Finding the projection of a point onto a convex set is a problem of computational geometry that plays an essential role in mathematical programming and nondifferentiable optimization. Recently proposed Charged Balls Method allows one to solve this problem for the case when the boundary of the set is given by smooth function. In this chapter, we give an overview of Charged Balls Method and show that the method is applicable also for nonsmooth case. More specifically, we consider the set that is defined by a maximum of a finite number of smooth functions. Obtained results show that even in case of the set with nonsmooth boundary, Charged Balls Method still solves the problem quite competitive effectively in comparison with other algorithms. This is confirmed by the results of numerical experiments.