2016 | OriginalPaper | Buchkapitel
Properties of Fluid Limit for Closed Queueing Network with Two Multi-servers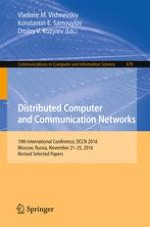 Erstes Kapitel lesen
Autor: Svetlana Anulova
Abstract
A closed network consists of two multi-servers with
n
customers. Service requirements of customers at a server have a common cdf. State parameters of the network: for each multi-server empirical measure of the age of customers being serviced and for the queue the number of customers in it, all multiplied by
\(n^{-1}\)
.
Our objective: asymptotics of dynamics as
\(n\rightarrow \infty \)
. The asymptotics of dynamics of a single multi-server with an arrival process as the number of servers
\(n\rightarrow \infty \)
is currently studied by famous scientists K. Ramanan, W. Whitt et al. Presently there are no universal results for general distributions of service requirements—the results are either for continuous or for discrete time ones; the same for the arrival process. We develop our previous asymptotics results for a network in discrete time: find equilibrium and prove convergence as
\(t\rightarrow \infty \)
.
Motivation for studying such models: they represent call/contact centers.